Campaign Communications and Persuasion Advertising​
We blend strategy, graphic design, videography, ad auction navigation, and web development together to craft a Digital presence for our clients that maximizes our clients' budgets and wins votes and support.
Target Voters Everywhere They Internet
Once we have our program laid out and our creative assets made, we'll deploy your ads across as much of the Digital ad landscape as we can. Digital campaigns target audiences, not platforms - we don't have to spend money on folks that aren't likely to be in your target audience on any of the major ad platforms. Most platforms allow 1:1 targeting, and the ones that don't offer robust dynamic targeting options that let savvy advertisers hone in on target audiences effectively.
We call each set of creative a Message Treatment. Think of each Message Treatment like a Mail Piece, each with its own theme that builds on the campaign's overall message strategy. Each Message Treatment will include Video, Native, and Banner ads in many different sizes and formats for maximum inventory access. These ads will get deployed across the internet, targeted as closely as our skills and Digital marketing allow, to ensure that no matter where your primary audience internets, they receive our message.
Transparency and Accountability​
Digital campaigns are vast and complicated—clients should feel confident their digital provider is deploying their budget effectively and honestly. We pride ourselves on our pricing structure, reporting, and 100% transparency. These commitments give us the right incentive structure to do good work, not maximize our profit by gaming CPM's or hiding extra fees. We believe our reporting is second to none in the Poli-Digi space.
Understanding the Digital Journey​
Only a small percentage of your target audience starts ready to watch your two minute long intro video or read about your policy stances—it often takes many touches before they are ready to consume longer content. Our programs are designed to drive voters "Down the funnel" towards voting and beyond. The more someone engages with compelling, authentic, message-tested content, the more likely they are to support your cause.
Serve Target Audience Ads in Their Preferred Language
Lawmakers can be overwhelmed by all of the different bills they have to consider at once. Our "Flood the Zone" campaigns ensure your message is top of mind at the most critical time for your legislation. We use pinpoint Digital targeting methods and compelling creative to inundate lawmakers, stakeholders, and everyone in their lives with your message online. You'll have a persistent presence in their phones, laptops, desktops, and tablets. No matter how your targets prefer to internet - Facebook, Instagram, Twitter, LinkedIn, Google, Youtube, or the wider web - our strategies ensure they receive your message.
Jorge Cabrera Case Study
Download a case study about how voters who saw our Congressional Candidate's Digital ads were 12% more likely to vote for our client.
School Board Case Study
Download a case study about how we helped lead a Coordinated campaign to elect pro-public education candidates.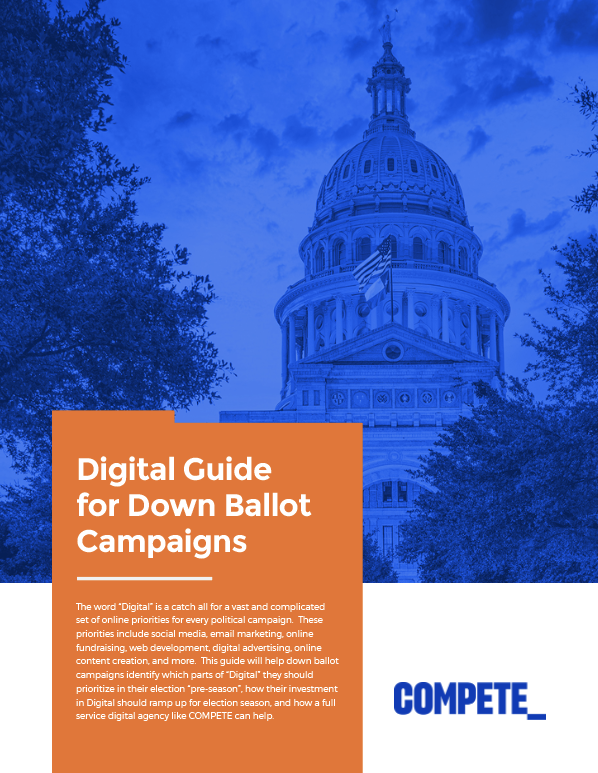 Digital Guide to Down-Ballot Campaigns​
Our free guide will help Down-Ballot Campaigns understand what they need to focus on and budget for at different stages in the election season to harness the internet and achieve victory.​
GET AN INSTANT DOWNLOAD NOW
As a first time candidate in a crowded primary, COMPETE gave me the edge I needed to reach new voters and win my race.
The COMPETE team was dependable, kind, and responsive in a stressful time for our campaign. Highly recommend!