Meet the talented COMPETE team that powers our clients' success.
Zach Mandelblatt
PRESIDENT
Zach co-founded Digital Reach, a marketing firm that works with tech companies in Silicon Valley. After Trump won, he started knocking on doors and registering folks to vote. In 2018, he cut his political teeth working for Congressional campaigns across the country and as Paid Digital and Social Media advisor for the Digidems. Zach founded COMPETE after realizing he could best help Democrats by bringing successful digital strategies over from the tech world to politics.
Jaden Slagle
Director of Campaigns
Jaden is a lawyer turned organizer turned digital enthusiast. In 2014, he moved home to Texas to work for Wendy Davis. After he caught the campaign bug, he organized in Kansas, Missouri, Virginia, and Maryland before moving to Iowa to work for Senate Majority Leader Mike Gronstal. He has since managed campaigns in Virginia, Michigan, and Florida. Somewhere in there, he found the time to learn to code.  Through his campaign travels Jaden realized the value of investment in digital, which led him to co-found COMPETE.
Courtney Abeyta​
Director of Operations
Courtney is the brains behind the scenes at COMPETE. She has conquered the administrative world working in industries ranging from print advertising to healthcare.  She keeps COMPETE's trains running on time so everyone else can focus on doing an excellent job for our clients. Courtney witnessed our politics becoming more and more toxic, and co-founded COMPETE to do her part to bring us back to a more equitable and harmonious place.
Keith Frederick
Director of Messaging
Keith Frederick is the owner of FrederickPolls based in Arlington, Virginia. FrederickPolls is one of the country's leading issue and political polling firms. Keith has 35+ years' experience providing strategic message and targeting advice. Recognizing that digital is the future of communication, Keith co-founded COMPETE to provide message testing expertise and invaluable experience navigating the political market.
Chris Ricci
partner
Chris founded and ran Chris Ricci Presents, Inc. an event promotion firm in Central California. When Trump won the election he was compelled to get involved politically. Prior to joining COMPETE in 2019, he worked with the social media teams in CA-21 and Josh Harder in CA-10, and on texting campaigns for Democratic candidates using Relay and Hustle. Chris was recently elected Councilmember for the City of Modesto, giving him even deeper insight into what campaigns and elected officials need from their media firm.
Kimberly Humke
production manager
Kimberly is a retired professional dancer, entrepreneur, writer, and life-long activist. She is a frequent contributor to local news publications and manages content creation for several not-for-profit organizations. Kimberly is passionate about creating strong messaging that hits the mark eloquently. In college, she double majored in Women's Studies and Political Science with a minor in Philosophy. When she's not dreaming up new concepts for COMPETE, she is chasing around an exuberant 2 year old and an adventurous 13 year old.
Adam Perry
Creative Director
Adam is an experienced Creative Director and children's book author with a demonstrated history of working in the marketing and advertising industry. He is skilled in Search Engine Optimization (SEO), Logo Design, Advertising, Video, and WordPress, and possesses a strong arts and design background. He graduated from the Bradley Academy for the Visual Arts.
Mackenzie Lucas
Digital Strategist + LEAD WEB DESIGNER
Mackenzie is a digital media and communications professional passionate about building brands, campaigns, and online movements for positive change. She started her career as a Web Designer, and, after her time working in the U.S. House of Representatives as Communications Director, she saw the growing need for digital in politics. In her role as Digital Strategist at COMPETE, she builds kick-ass websites, compiles reports, and places digital ads to help progressive campaigns win.
Andrew Curtis
digital Designer
Andrew Curtis is a Virginia-based graphic designer who focuses on helping clients in finding the right visual solution for their creative problems. A graduate of George Mason University with a Bachelor of Fine Arts, he was also involved in AIGA (American Institute for Graphic Arts) while in college. Andrew has been involved in several local Startup Weekends & Hack-A-thons.
Isobel Sylvian
email coordinator and social Media lead
Isobel is a social media and public relations practitioner who has been involved in politics from a young age beginning with attending local and nationwide Democratic campaign rallies. Right after graduating from Boston University, she jumped into a career working for an advertising firm that helped open her mind to the possibility of what could happen when she combined her experience in advertising with her passion and skills for social media management. She now focuses her talents on uplifting and boosting her clients through engagement, growth, and organization.
Hannah Frater
Digital Strategist
Hannah is a digital strategist and data scientist who is dedicated to using evidence-based methods to further progressive causes and build Democratic majorities. After graduating with degrees in Government and Quantitative Social Science from Dartmouth College (where she captained the rowing team), she moved to rural Colorado to manage the marketing of a health equity nonprofit. Having worked in the U.S. Senate and at EDF Action, she now uses her experience with advertising and data analytics to help optimize the performance of her clients' digital campaigns.
Ameera Sylvian
Social Media Coordinator
Ameera is a social media coordinator passionate about using her skills to bring about positive change. She has worked with a wide variety of social media and content moderation clients, including starting her own small business and building a loyal clientele via social media. She has been involved in progressive politics since a young age, and now takes pride in furthering those causes using social media to drive engagement. When not tied to a screen, she can be found in the woods of Oregon chasing after her 3 dogs.
Juan Calderón
SPANISH LANGUAGE CONTENT MANAGER
Originally, born in Morelia, the capital of the beautiful State of Michoacán, México. Juan migrated to the US at a very young age and now calls the State of California home. Juan has worked with not-for-profit organizations, engaged in the Labor Movement, the Civil Rights Movement, the Comprehensive Immigration Reform Movement, and many other causes that serve the purpose of achieving a better quality of life for everyone.  He has experience as an administrative assistant, a community organizer, and a freelance translator.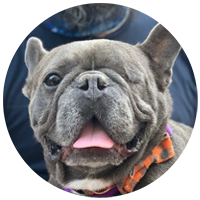 Tank
Assistant to the regional manager
Sergeant Tank Obama joined COMPETE after a brief stint at Delaware Alliance for Animal Welfare Groups, Inc. (DAAWGS). He is a social butterfly who has helped take COMPETE's organic social media game to the next level. He has an eye for trending and viral content and brings style and class to every team meeting. In his spare time, he enjoys chasing trash cans and loudly snoring.
Pretzel
Director of Puplick relations
A key member of the team, Pretzel is constantly working to keep morale high.  When asked for remarks for his "Meet the Team" blurb Pretzel reBARKED that he is "PAWsitively thrilled by COMPETE's ability to unLEASH the power of the internet for our clients." We don't know HOWL we could do it without this guy HOUNDING us with his good (boy) ideas.