COMPETE is a full-service digital agency for campaigns and causes.
We combine decades of political experience with proven digital strategies from Silicon Valley to help our clients win.
Effective digital marketing requires mastery of many different disciplines. These are some of the services we offer to help you win the internet.
Why should you work with COMPETE?
Fundraising & Acquisition
Make sure your messaging stands apart in a crowded field. Using the power of the internet, it's easier than ever to reach and activate a wide range of supporters. Utilize digital fundraising best practices to hone in on messaging and tactics that lead to the best possible ROI.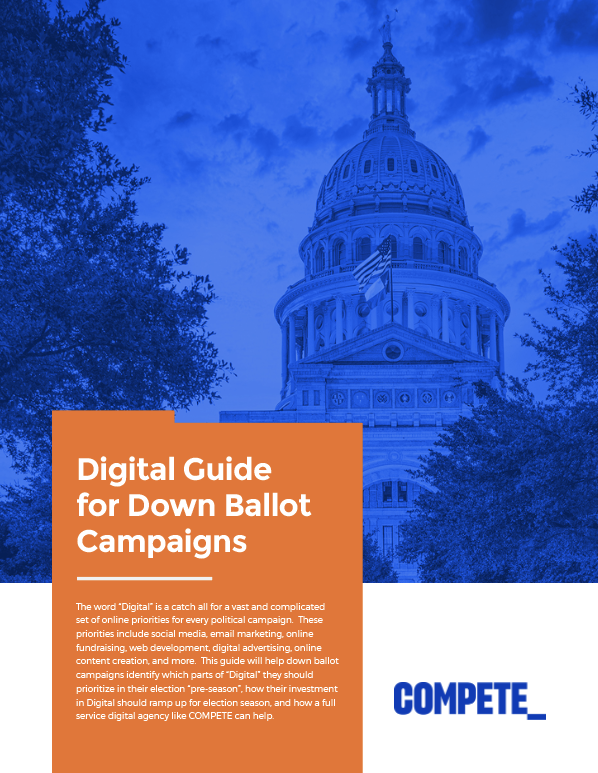 Digital Guide to Down-Ballot Campaigns​
Our free guide will help Down-Ballot Campaigns understand what they need to focus on and budget for at different stages in the election season to harness the internet and achieve victory.​
GET AN INSTANT DOWNLOAD NOW
The 2022 General Election defied conventional wisdom in many ways, including bucking some expectations for Digital ad pricing. Several factors pulled ad pricing in different
Read More »
FrederickPolls, COMPETE Digital, & AMM Political have released a Georgia Senate Run-off poll showing a Dead Heat between Senator Raphael Warnock and Herschel Walker. Our poll paints a less rosy picture for the incumbent Senator than the current national narrative of the campaign, which seems to be favoring Warnock.
Read More »
Economics 101: when a buyer knows the true cost of something, they make better buying decisions. Unfortunately, we have found that most left-of-center campaigns, causes,
Read More »
Sign up for COMPETE's email newsletter
COMPETE makes it easy for me and the campaigns we work on together to succeed. When they're on the team, I know digital will help us win.
COMPETE is a great firm, and a great group of people. They know their stuff, are easy to work with, and will work within your budget.