We are a coalition of marketing experts and political veterans.
COMPETE is a full-service digital agency. We combine decades of political experience with proven digital strategies from Silicon Valley to win the most
out of our clients' budgets.
Why Should You Work With COMPETE?
Effective digital marketing requires mastery of many different disciplines.  These are all of the services we offer to help you achieve your goals.
We help you harness the internet to maximize votes won from your budget. We'll utilize:
We'll take your target audience on a journey that ends with them voting for you.
Our creative team creates compelling ads and websites that break through online.
Our expertise helps you reach your target audience across the fractured digital landscape.
Digital Guide to Down-Ballot Campaigns
Our free guide will help Down-Ballot Campaigns understand what they need to focus on and budget for at different stages in the election season to harness the internet and achieve victory.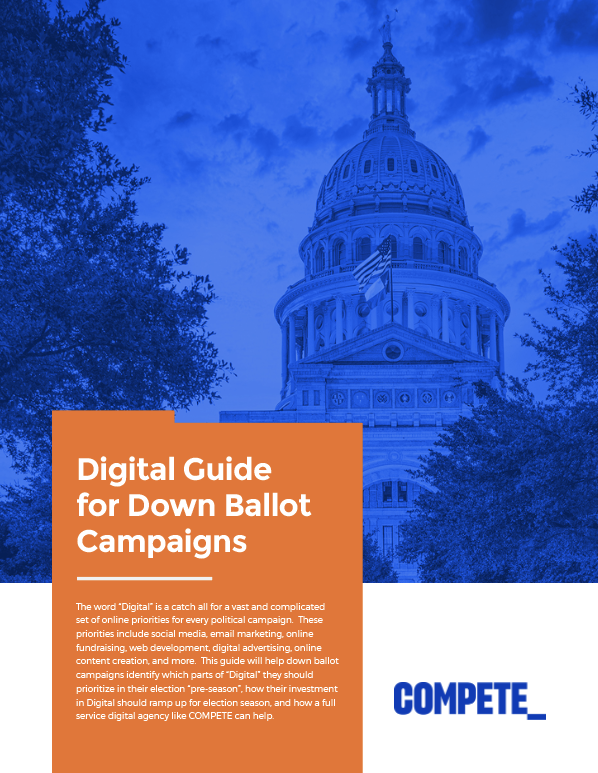 Public Affairs Initiatives
Well-executed digital campaigns are an effective tool for persuading a key group of lawmakers. Learn about our innovative advocacy strategies:
Reach lawmakers with your message day and night while they're considering your legislation.
There is an army of constituents ready ready to support your cause — we will help activate them. 
Activate your most hardcore supporters over and over again to keep your legislation top of mind.
Digital Fundraising and Acquisition
Raising money isn't always fun—but using the power of the internet, it's easier than ever to reach and activate a wide range of supporters. Here's how we do it:
Our past work in Silicon Valley has made us masters of  the highest value messages and audiences.
By constantly testing creative and themes, we find the message that activates your donors.
A single theme can be the jumping off point for a series of assets that work together to create donors.
COMPETE 2020 Highlight Reel
Watch some of our best work from last cycle ---->
COMPETE makes it easy for me and the campaigns we work on together to succeed. When they're on the team, I know digital will help us win.
COMPETE is a great firm, and a great group of people. They know their stuff, are easy to work with, and will work within your budget.